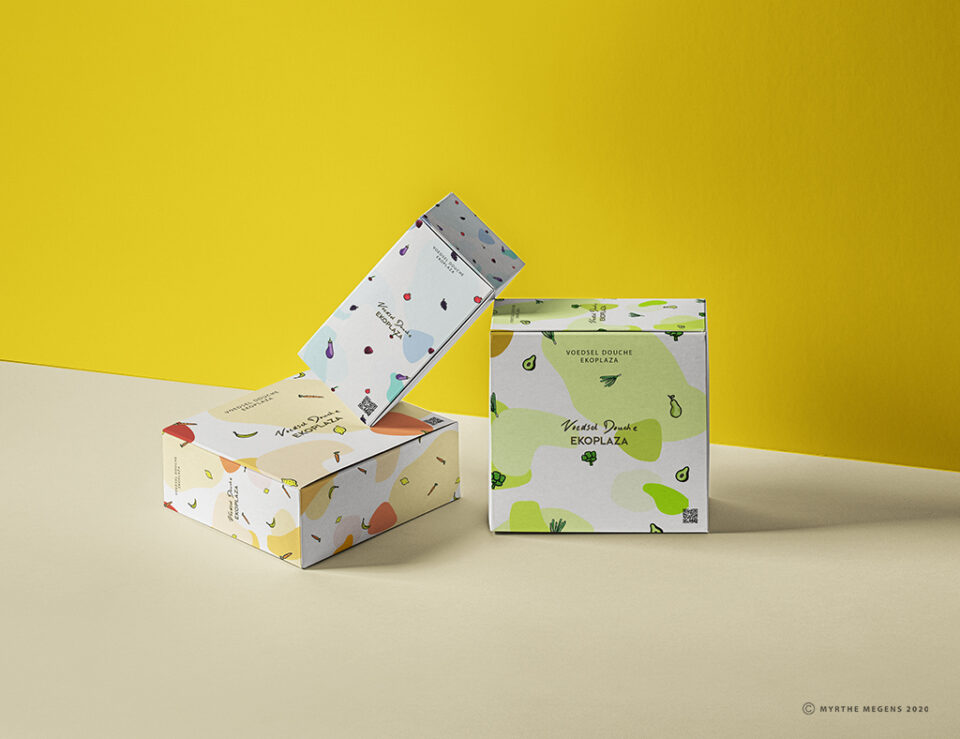 Children have a lot of stimuli to deal with – especially in a society like ours, constantly bombarding us with information from every direction imaginable.
I'm fascinated by the influence of food on the human psyche. This fascination is the reason I've created Voedsel Douche ("Food shower") for organic supermarket chain EkoPlaza. With this custom-made box, aimed at both parents/guardians and children, I'm hoping to foster change in eating habits. This should improve the positive effects food can have on children. 
My goal is to help parents make the best decisions for their child using Voedsel Douche. By raising awareness, I'm hoping to contribute to breaking unhealthy eating patterns. There's nothing more important than our health. So take a shower – a food shower.
Kinderen ervaren veel prikkels. Zeker in een maatschappij zoals die van ons waarin van alle kanten informatie met hoge snelheid binnenkomt.
Ik heb een fascinatie voor de invloed van voeding op de psyche van de mens. Vanuit die interesse heb ik het concept Voedsel Douche ontwikkeld voor EkoPlaza. Met een op maat gemaakte box, voor zowel ouder/verzorger als kind, wil ik verandering van eetgewoonten stimuleren. Zo bevorder ik de positieve effecten van voedsel op het kind.
Ik streef ernaar ouders te helpen om met behulp van Voedsel Douche de beste keuzes te maken voor hun kind. Door bewustzijn te creëren wil ik bijdragen aan het doorbreken van ongezonde voedingspatronen. Gezondheid staat voorop. Dus neem een douche, ga voor Voedsel Douche.