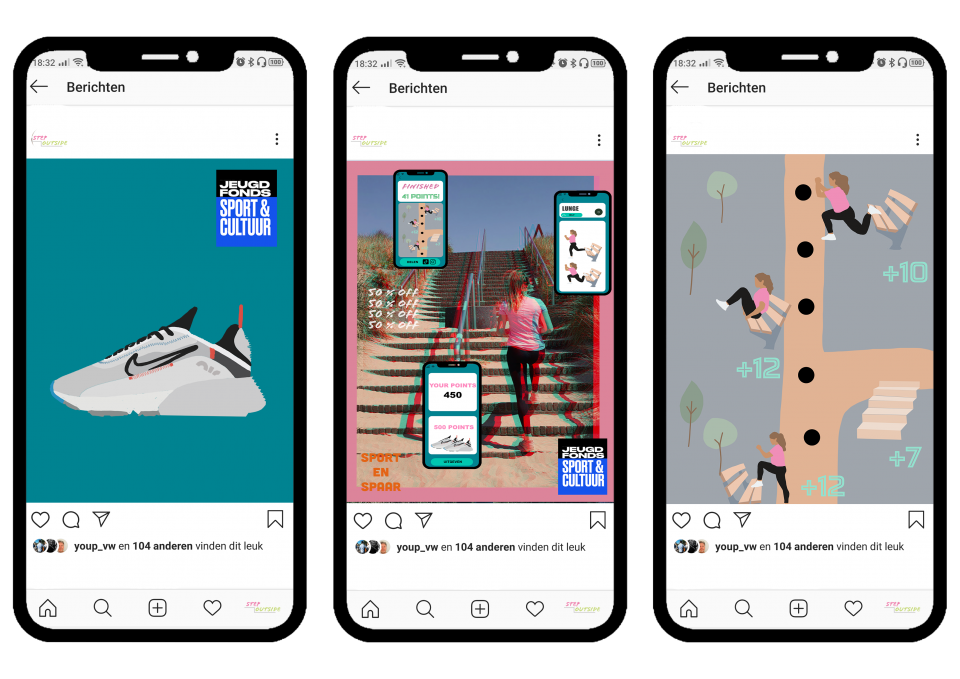 My interest in sport and wellness has led me to research these topics. 
In my studies, I've noticed high rates of lifestyle diseases, along with the fact that Generation Z aren't getting enough exercise. That's why my aim is to motivate this generation to go outside and get physical. 
I've collaborated with Jeugdfonds Sport & Cultuur to develop a gamification app. This app will foster a sense of connection and challenge in young people to get them moving. It provides a route through a city or village; while traversing that route, players carry out exercises with objects found along the way. The more exercises they do, the more points they get. These points will earn them discounts with fashion brands, day trips and other leisure activities. 
Door mijn interesse in sport en gezondheid ben ik hierin onderzoek gaan doen. 
Daarbij kwam ik hoge welvaartsziektecijfers tegen en het feit dat Generatie Z te weinig beweegt. Ik wil deze generatie motiveren om naar buiten te gaan en te sporten. 
In samenwerking met het Jeugdfonds Sport & Cultuur heb ik een gamificatie app ontwikkeld. Door deze app ontstaan er verbinding, uitdaging en beweging bij jongeren. De app geeft een route door een stad of dorp, daarbij voeren deelnemers oefeningen uit met de objecten die ze onderweg tegenkomen. Hoe meer oefeningen ze uitvoeren hoe meer punten ze verdienen. Met de punten krijgt de jeugd kortingen bij kledingmerken, uitjes of andere vrijetijdsbesteding.