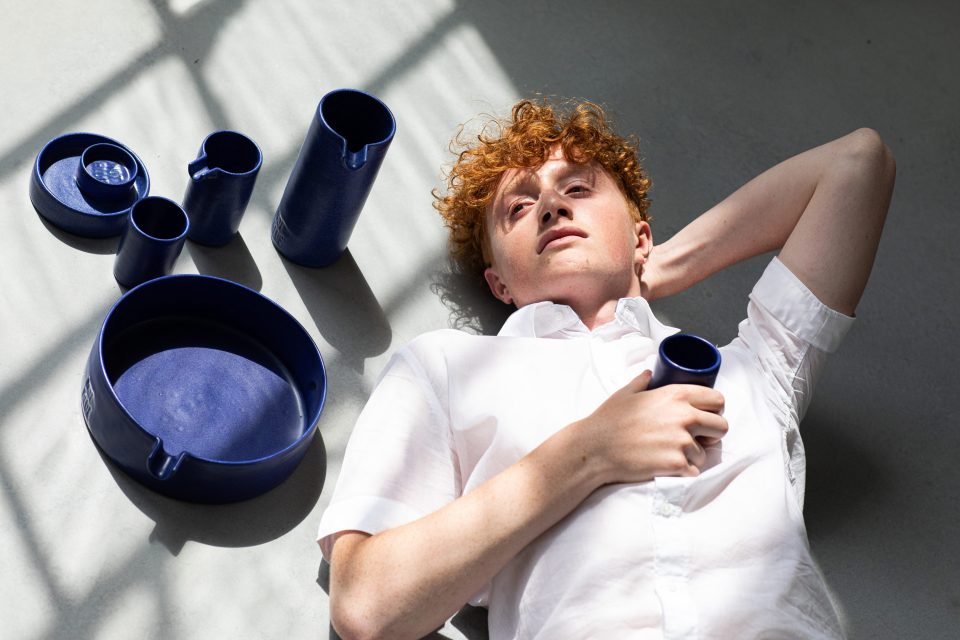 I was triggered by the fact that 'grief' in the broadest sense of the word is hardly given any space in our socially engineered society. While failure, mistakes and losses are a true part of existence as much as our successes and achievements. Embracing them makes you vulnerable, but vulnerability is a true sign of personal strength.
My research taught me that 'grief' used to be a part of life. We lost that fact.  How can we retrieve this? By making grief tactile. Using tableware with meaning based on Black Basalt Ware from 1800's we can make a verbal or non-verbal connection in grief and create a ritual that society seeks for.
Benetton as a social aware brand is capable of carrying a subject such as grief. The launch of HOMESTORIES by BENETTON, which includes the NOTBLUE line of tableware, marks its entrance into a new market that will give it a platform uniting design and society. This will help Benetton reclaim its market position of the 1980s.
Het viel mij op dat een belangrijke emotie als 'rouw', in de breedste zin van het woord, geen ruimte krijgt in onze maakbare maatschappij.
Onderzoek heeft mij geleerd om mijn falen, vergissingen en verliezen te omarmen. Zij zijn een werkelijk onderdeel van het bestaan, net zoals successen, gehaalde doelen en nieuwe ontmoetingen. Sterker nog, het één bestaat niet zonder het ander. Wanneer je dat doet zal je kwetsbaar zijn, maar kwetsbaarheid is een teken van ware persoonlijke kracht.  Kwetsbaarheid schept verbinding.
NOTBLUE_ Een servies met een verhaal. Benetton als sociaal bewust merk dat niet terugschrikt voor een onderwerp als rouw speelt met het servies in op het verlangen naar inhoud, tastbaarheid en realisme van Millennials. Met het lanceren van HOMESTORIES by BENETTON, waar het servies NOTBLUE onderdeel van is, boort zij een nieuwe markt aan en heeft zij een platform in handen waar design en maatschappij samenkomen. Hiermee kan Benetton haar marktpositie uit de jaren 80 weer claimen.