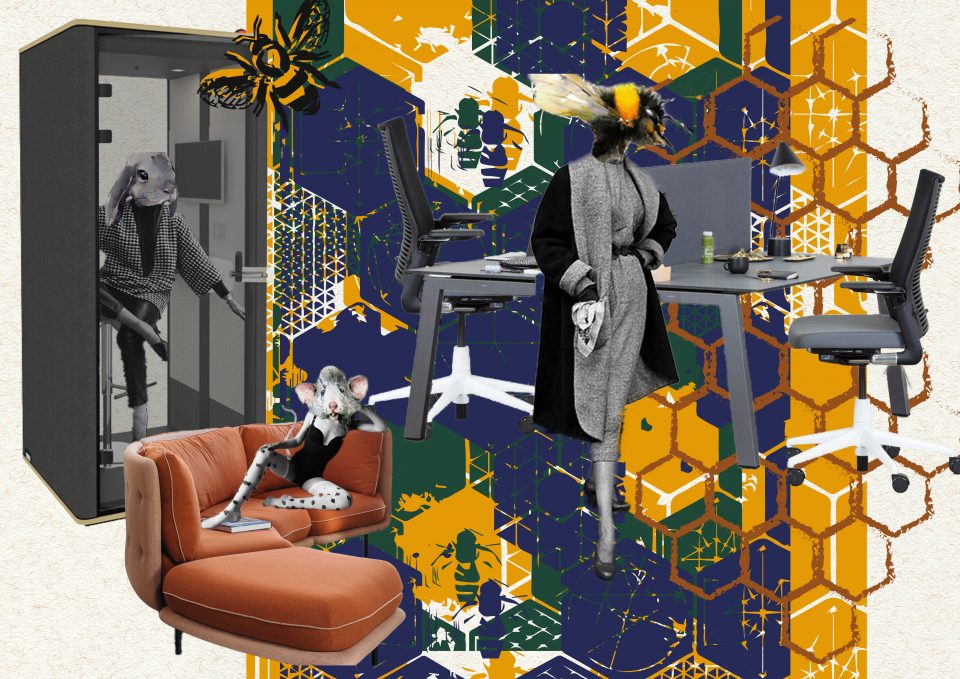 This project stems from my interest in the positive and negative effects people's surroundings can have on them.
Current open-plan offices fill some people with dread, since they do nothing to shield them from outside stimuli. For them, a contemporary office is like stepping into a jungle. The open-plan office is increasingly drawing criticism, and with social distancing in place, it will have no choice but to reinvent itself. 
Project and office furnisher Ahrend is publishing a trailblazing inspiration book for an overhauled open-plan office. The office animals portrayed within symbolise the diversity of needs that will have to be taken into account. Using an e-paper with inspiring furnishing suggestions and a content strategy, I am presenting Ahrend as a thought leader for office work.
Dit project komt voort uit mijn interesse in hoe een omgeving mensen positief en negatief kan beïnvloeden.
De huidige kantoortuin is voor sommige mensen een verschrikking omdat ze teveel bloot staan aan prikkels van buitenaf. Voor hen is de kantoortuin meer een kantoorjungle. De kantoortuin komt dan ook steeds meer onder vuur te liggen. Door de 1.5 meter samenleving zal de kantoortuin zichzelf sowieso opnieuw moeten uitvinden. 
Project- en kantoorinrichter Ahrend neemt het voortouw met een inspiratieboek voor de kantoortuin 2.0. De hierin geportretteerde kantoordieren staan symbool voor de diversiteit aan behoeften waar rekening mee moet worden gehouden. Door middel van een e-paper met inspirerende interieursuggesties en een contentstrategie zet ik Ahrend neer als 'thought leader' voor de kantoorbranche.